Solo Piano pieces
1. Self-Portrait (8:28)
2. A Field of Flowers (8:32)
3. Butterflies (2:39)
4. Good Morning! (1:01)
5. Illini (1:09)
6. Happy Birthday Linda (1:40)

Total time 23 min.
Original music for acoustic solo piano, by David Erskine. Recorded before an audience at the 1st Congregational Church of Berkeley, January 6, 1996 on a Hamburg C Steinway piano. Recorded by Scott Levitin. (CD Expressions has more recordings from this evening.)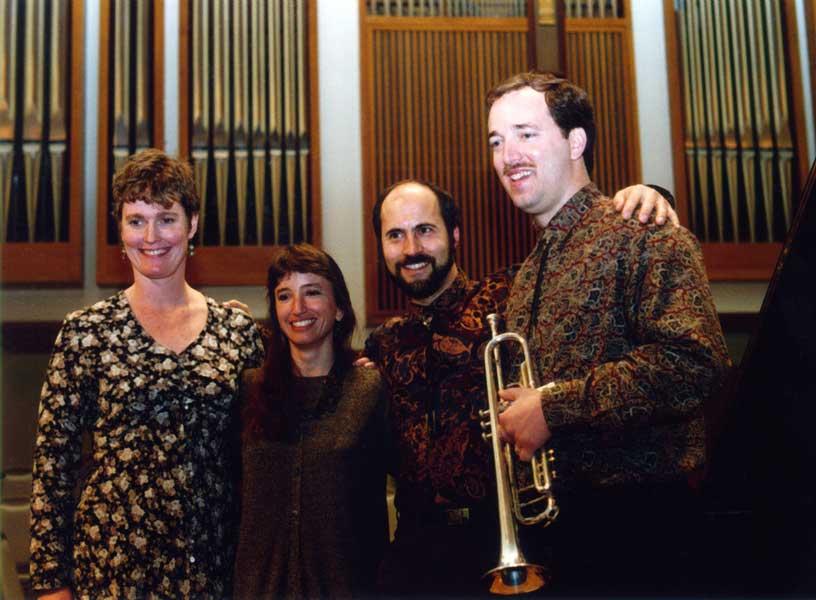 L to R, hostess Julie Benner, pianists Irene Jacobson and David Erskine, trumpeter Richard House, at the recital of January 6, 1996, held at the 1st Congregational Church of Berkeley, California. Dave's recordings from this eveneing form the basis for CDs Expressions and Self-Portrait.
info@pineshadow.com
Oakland, California






1.3 MB

1.9 MB

3. Butterflies

1.3 MB

4. Goodmorning

0.7 MB

5. Illini

0.9 MB

1.1 MB
Sound Samples of
CD Self-Portrait (2004)
Reviews of CD Self-Portrait (2004)
Dave. Dude. Wow. I just listened to your Self-Portrait album, and it was so good I'm listening to it again. I'll tell you, I'm picky about music, and I really found this quite engaging. I had started to read something while I was listening to it and no, it demanded my full attention, I had to put the reading down. (It was a really interesting article about brain parasites affecting our behavior--they say maybe 40% of people are actually infected! But your music was even more interesting than that, it won. So you should be proud.) Definitely looking forward to hearing the one that's coming in the mail sometime. —Misha F.