cover painting ©1997 Tim Lajoi
Original music for acoustic solo piano, by David Erskine. Recorded before an audience at the 1st Congregational Church of Berkeley, January 6, 1996 on a Hamburg C Steinway piano. Recorded by Scott Levitin. (CD Self-Portrait has more recordings from this same evening.)
Additional pieces using synthesized orchestra. Released in 1997.
Solo Piano pieces (Detailed descriptions)
1. Fantasy (4:24)
2. White Stallion (3:20)
3. A Field of Flowers (8:34)
4. Under Quiet Trees We Join Hands (2:52)
5. Valentine (2:09)
6. A Time Apart (6:21)
7. BCBC (1:53)
8. Sequoia Cathedral (from Sierra Passage*, mov. 5) drawing (13:43)
Synthesized orchestra
9. Grand Canyon Overture (3:23)
10. Grand Canyon (7:04)
Total time 54 min
Booklet includes poem and drawing of Sequoia Cathedral.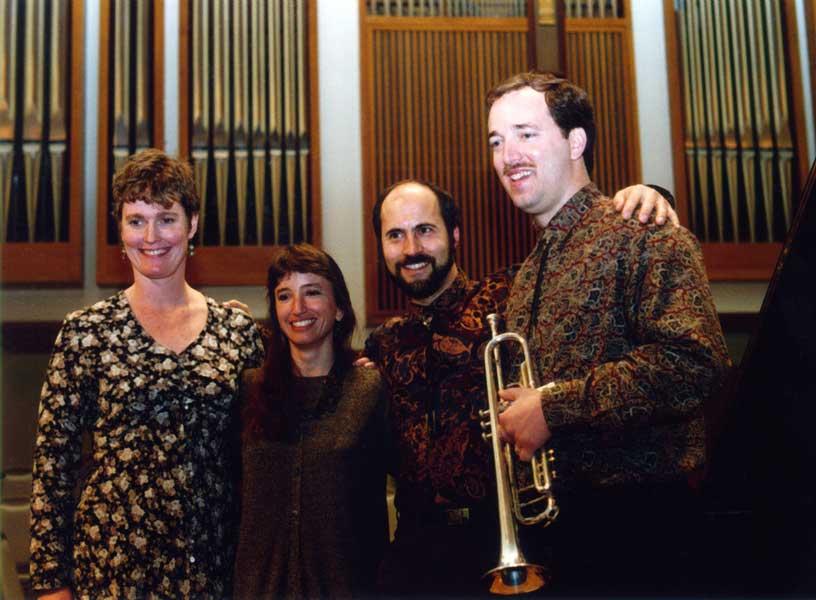 L to R, hostess Julie Benner, pianists Irene Jacobson and David Erskine, trumpeter Richard House, at the recital of January 6, 1996, held at the 1st Congregational Church of Berkeley, California. Dave's recordings from this eveneing form the basis for CDs Expressions and Self-Portrait.
info@pineshadow.com
Oakland, California







| | |
| --- | --- |
| 1. Fantasy | 1.5 MB |
| | 1 MB |
| | 2.1 MB |
| | 0.8 MB |
| 5. Valentine | 0.9 MB |
| 6. A Time Apart | 0.9 MB |
| 7. BCBC | 1 MB |
| | 6 MB |
Sound Samples of
CD Expressions (1997)