Cabaret birthday party, February 2, 2019. About 14 of us performed to celebrate fellow Composers Group member Marilyn Mattson at her birthday party in Lafayette, CA, at the Lamorinda Muisc Theater. I played "March Rain".

Photos and videos of Dave performing recitals with the Piano Composers Group here.
Video of Dave playing on a 140 year old piano owned by a famous pianist, Ignacy Jan Paderewski, in Paso Robles, CA, October 2018.
info@pineshadow.com
Oakland, California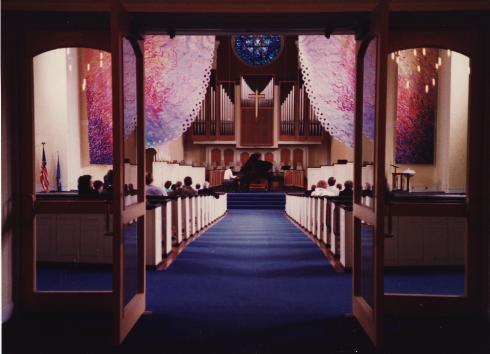 Dave playing at his April 2, 1989 recital held at the 1st Congregational Church of Berkeley. This is the same venue as the January 6, 1996 recital, and is one of his favorite pianos, a Hamburg C Steinway. Photo by Amy Dunn.
Performing with step-brother Richard House (trumpet) at their brother Paul Erskine's wedding in October 2007, in San Francisco.
We were visting the Chatsworth House in Derbyshire England in July 2016, amazed at all the art, and we came across this grand piano in the library with a sign that encouraged visitors to play on it, so......here is video (playing Summer's Nights Breeze). Photos/video by Sheryl Lawry.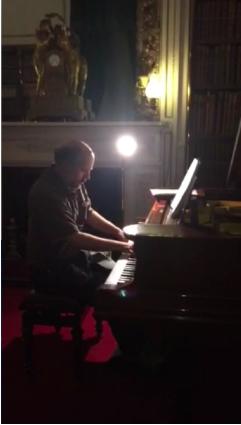 Recital at the Loma Colorado Main Library, Albuquerque, NM, March 25, 2010. Photos by Marcia Coty.
Learning to play piano in our basement, age 8.
Recorded for CCPAS Youtube concert November 24, 2020:
Golden Little Flower (audio only, video, full concert with 6 artists)
Recorded in recital December 6, 2019, for a wedding:
Door County Serenade (2019 version)
Recorded at home, a catchy melody to explore, cries out for another instrument:
Our Blue Dot Too, piano solo variations, November 25, 2018